Trenbolone Enanthate – 200mg/ml 10ml/vial – PRIME PHARMA
$62
Trenbolone, the molecule in Parabolan, is an excellent product that no longer needs to be proven. Parabolan provides a gain in muscle mass as much qualitative as quantitative. It offers an impressive vascularization.
Description
Description
Product and Laboratory: Trenbolone Enanthate by Prime Pharma
Effects: Strong increase in lean muscle mass, increased muscle hardness, increased definition
Ingredients: Trenbolone (Ester: Enanthate)
Form: Injection
Concentration: 200 mg/ml
Presentation: 10ml vial (Total box 2000 mg)
Dosage: 300-800mg/week for 8-10weeks


| Beginners | Intermediate | Advanced | Female |
| --- | --- | --- | --- |
| 300-500mg/week for 8-10 weeks | 500 – 700mg/week for 8-10 weeks | 700-800mg/week for 8-10 weeks | N/A |

Protection during treatment: Letrozole (if needed) / Anastrozole (Arimidex) / Always use testosterone with trenbolone
Pct post cycle therapy: 1 Clomid and 1 Nolvadex per day for 20 days
Stack: Testosterone / Masteron / Growth Hormone (Including secretagogues and peptides) / Winstrol
Level: Intermediate
Buy Trenbolone Enanthate 200 By Prime Pharma (Trenbolone Enanthate 200 mg)
An assortment of the Trenbolone steroid, enanthate 200 is among the finest brands of steroids the market has to offer today. Similar to its counterpart, Trenbolone Acetate, it is widely reputed for its capacity to inspire consistent development of lean mass while simultaneously reducing body fat and magnifying muscular visibility. Whether you have previously used it or are just starting out, Prime Pharma guarantees you the finest trenbolone Enanthate variant available on the market.
Prime Pharma sells it under the name Trenbolone Enanthate 200, a premium grade compound formulated to offer optimal results within the shortest possible timeframe while continually safeguarding your vitality.
Lab Test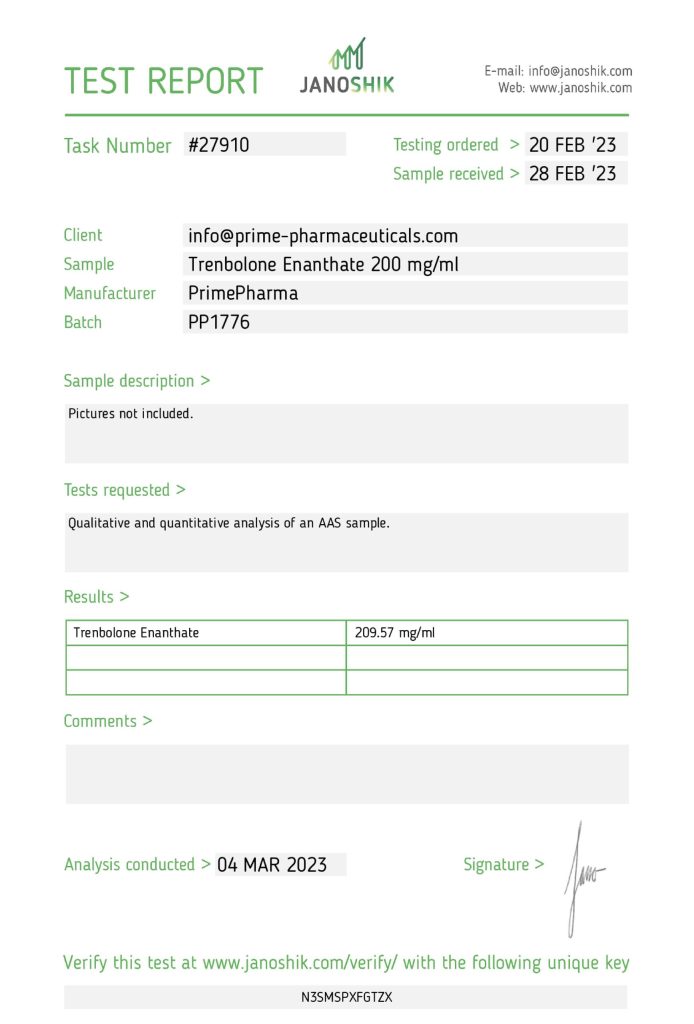 Shipped from WH Prime and Received in 4 to 5 days for $25 (click for details)
Our warehouse Prime Pharma is shipping only in Europe.

 

But this warehouse is NOT shipping in Switzerland, UK, Norway, Sweden, Finland, Denmark.

Brands available from our Warehouse Prime Pharma : Prime Pharma
Shipping cost for our Warehouse Prime Pharma = $25 (+5% of total order amount if you select our insurance)
It takes usually 48 – 72 hours (except weekend) after your order is paid to ship.
After shipped, delivery in 4 – 5 days for France, and 1 to 2 days in Belgium and the Netherlands.
Shipping tracking number is sent 1 – 2 days after shipped.
We give particular attention to the packaging and delivery of all your products. Each shipment is treated with the utmost care. Our products are vacuum sealed to ensure protection, sterility, and especially incomparable discretion. We ship the products with their original packaging and instructions.