Turinabol – 10mg/tab 100tabs – PRIME PHARMA
$53
Turinabol improves nitrogen retention and protein synthesis. It also increases the number of red blood cells very significantly. This translates into better oxygenation of the muscles and therefore better endurance. Turinabol also increases athletic strength.
Description
Description
Product and Laboratory:   Turinabol by Prime Pharma
Effects: Lean Muscle Gain, increased strength
Ingredients: 4-chlorodehydromethyltestosterone
Form: Oral
Concentration: 10 mg/tab
Presentation: 100 tabs (Total box 1000 mg)
Dosage: 30-60mg/day for 6-8 weeks


| Beginners | Intermediate | Advanced | Female |
| --- | --- | --- | --- |
| 30mg-40mg/day for 6-8 weeks | 40-50mg/day for 6-8 weeks | 50-60mg/day for 6-8 weeks | 5-10mg/day for 6-8 weeks |

Protection during treatment: Take a hepato-protective (liver protection = Samarin) between 2 and 4 tabs per day
Pct post cycle therapy: Clomifene (Clomid) and tamoxifen (Nolvadex) during recovery: 1 each day for 20 days
Stack: Testosterone, Anavar, Winstrol, Clenbuterol, Growth hormone (plus secretagogues / peptides)
Level: Suitable for all users
TURINABOL is a 17-alpha alkylated anabolic steroid for oral use. It promotes anabolism through androgen receptor activity and is strongly anabolic and moderately androgenic. When taken in clinical doses, it produces potent increases in strength and moderate increases in muscle mass. In short term clinical trials, it has been well tolerated in healthy male subjects during 6 weeks of treatment.
Lab Test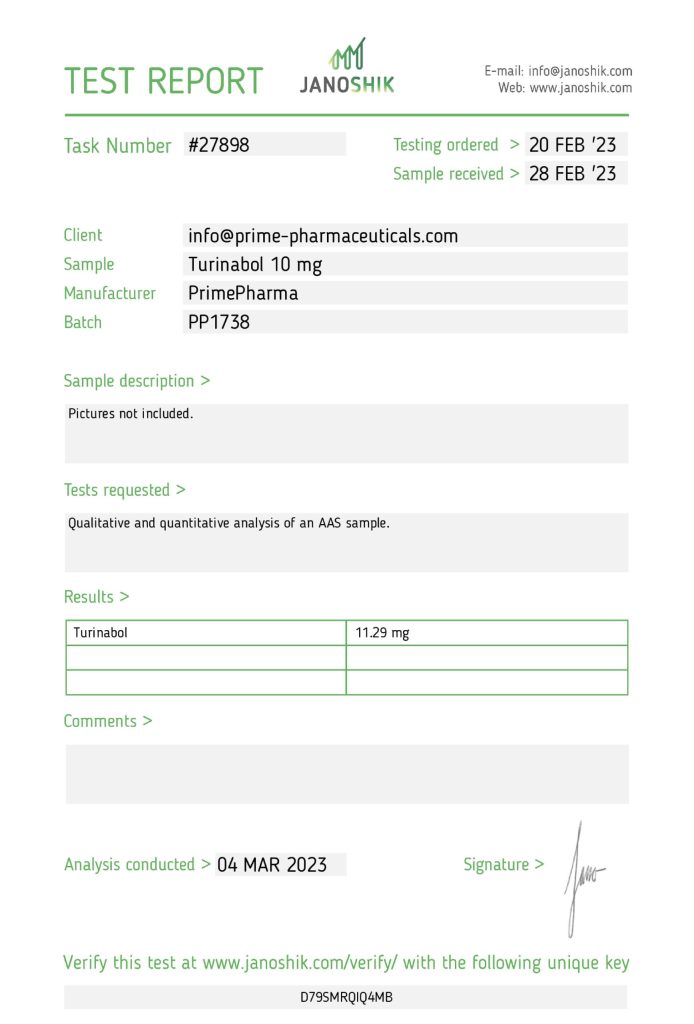 Shipped from WH Prime and Received in 4 to 5 days for $25 (click for details)
Our warehouse Prime Pharma is shipping only in Europe.

 

But this warehouse is NOT shipping in Switzerland, UK, Norway, Sweden, Finland, Denmark.

Brands available from our Warehouse Prime Pharma : Prime Pharma
Shipping cost for our Warehouse Prime Pharma = $25 (+5% of total order amount if you select our insurance)
It takes usually 48 – 72 hours (except weekend) after your order is paid to ship.
After shipped, delivery in 4 – 5 days for France, and 1 to 2 days in Belgium and the Netherlands.
Shipping tracking number is sent 1 – 2 days after shipped.
We give particular attention to the packaging and delivery of all your products. Each shipment is treated with the utmost care. Our products are vacuum sealed to ensure protection, sterility, and especially incomparable discretion. We ship the products with their original packaging and instructions.