HGH 10 x 10IU – PRIME PHARMA
$230
HGH Prime Pharma growth hormone is specially designed for active users who wish to increase their physical performance. The recommended dosage for HGH Prime Pharma corresponds to a gain in muscle mass.
Description
Description
Product and Laboratory:  HGH by Prime Pharma
Effects: Fat loss, lean muscle gain, strength gain, connective tissue growth
Ingredients: Somatropin
Form:  subcutaneous injection
Presentation: 10 vials x 10 IU
Dosage: 2-12 IU per day depending on goal over a duration of your choice (see description for more advanced guidelines)


| Beginners | Intermediate | Advanced | Female |
| --- | --- | --- | --- |
| 2 – 4 IU per day | 4- 8 IU per day | 8-12 IU per day | 0.75-2IU per day |

Protection during treatment: Letrozole (if needed) / Anastrozole (Arimidex)
Pct post cycle therapy: Letrozole (if needed) / Anastrozole (Arimidex)
Stack: Any oral or injectable steroid variety
Level: Suitable for all users
HGH Prime Pharma is a human growth hormone (hGH) produced by recombinant DNA technology. Somatropin has 191 amino acid residues and a molecular weight of 22,125 daltons. The amino acid sequence of the product is identical to that of pituitary-derived hGH. Somatropin may contain not more than fifteen percent deamidated GH at expiration. The deamidated form of GH has been extensively characterized and has been shown to be safe and fully active.
Lab Test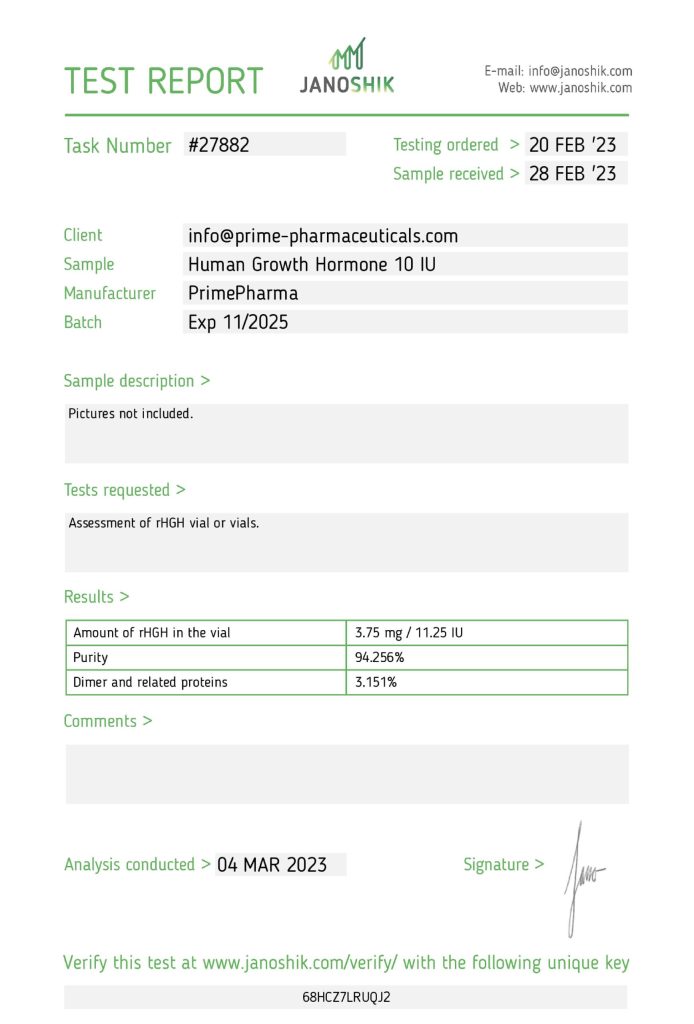 Shipped from WH Prime and Received in 4 to 5 days for $25 (click for details)
Our warehouse Prime Pharma is shipping only in Europe.

 

But this warehouse is NOT shipping in Switzerland, UK, Norway, Sweden, Finland, Denmark.

Brands available from our Warehouse Prime Pharma : Prime Pharma
Shipping cost for our Warehouse Prime Pharma = $25 (+5% of total order amount if you select our insurance)
It takes usually 48 – 72 hours (except weekend) after your order is paid to ship.
After shipped, delivery in 4 – 5 days for France, and 1 to 2 days in Belgium and the Netherlands.
Shipping tracking number is sent 1 – 2 days after shipped.
We give particular attention to the packaging and delivery of all your products. Each shipment is treated with the utmost care. Our products are vacuum sealed to ensure protection, sterility, and especially incomparable discretion. We ship the products with their original packaging and instructions.