Drostanolone enanthate – 200mg/ 10ml/vial – PRIME PHARMA
$72
Prime Pharma – Drostanolone is used by many bodybuilders preparing for competitions. Masteron has good anti-catabolic properties that allow you to maintain muscle and strength while melting body fat before a contest.
Description
Description
Product and Laboratory: Drostanolone Enanthate (Masteron Enanthate) by Prime Pharma
Effects: Inceases lean muscle mass, increased strength, reduces body fat
Ingredients: Drostanolone (Ester: Enanthate)
Form: Injection
Concentration: 200 mg/ml
Presentation: 10ml Vial (Total box 2000 mg)
Dosage: 200-400mg per week over 6-8 weeks


| Beginners | Intermediate | Advanced | Female |
| --- | --- | --- | --- |
| 200mg per week | 300mg per week | 400mg per week | 50-100mg per week |

Protection during treatment: Take a hepato-protective (liver protection = Samarin) between 2 and 4 tabs per day
Pct post cycle therapy: Clomifene (Clomid) and tamoxifen (Nolvadex) during recovery: 1 each day for 20 days
Stack: Anavar / Trenbolone / Winstrol / T3 / Clenbuterol / Growth Hormone (All Varieties)
Level: Intermediate
Buy Drostanolone Enanthate 200 By Prime Pharma (Masteron Enanthate) 200 mg/ml- 1 vial of 10ml
Drostanolone Enanthate 200 mg by Prime Pharma is a top-quality variant of drostanolone Enanthate and a uniquely crafted version of injectable masteron. This product is meant to last for extended durations which help to guarantee you impressive results.
In the bodybuilding world, it is perceived as one of the strongest products when it comes to muscle drying and offer rock-hard physique to help users stand out among the crowds.
Lab Test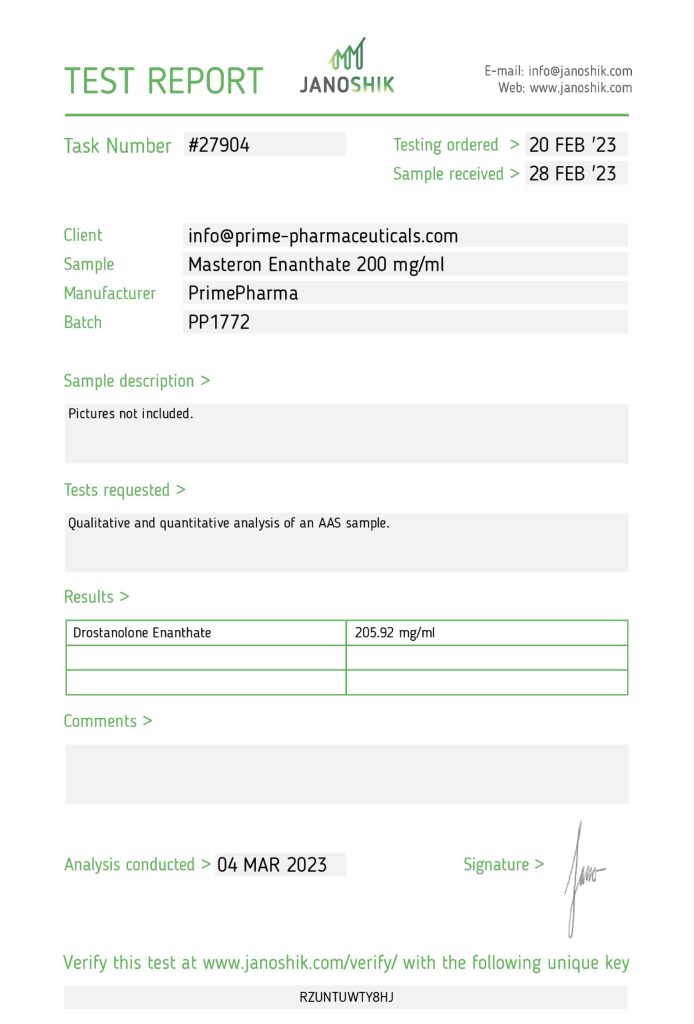 Shipped from WH Prime and Received in 4 to 5 days for $25 (click for details)
Our warehouse Prime Pharma is shipping only in Europe.

 

But this warehouse is NOT shipping in Switzerland, UK, Norway, Sweden, Finland, Denmark.

Brands available from our Warehouse Prime Pharma : Prime Pharma
Shipping cost for our Warehouse Prime Pharma = $25 (+5% of total order amount if you select our insurance)
It takes usually 48 – 72 hours (except weekend) after your order is paid to ship.
After shipped, delivery in 4 – 5 days for France, and 1 to 2 days in Belgium and the Netherlands.
Shipping tracking number is sent 1 – 2 days after shipped.
We give particular attention to the packaging and delivery of all your products. Each shipment is treated with the utmost care. Our products are vacuum sealed to ensure protection, sterility, and especially incomparable discretion. We ship the products with their original packaging and instructions.