Dianabol – 10mg/tab 100 tabs – PRIME PHARMA
$43
Methandienone (Dianabol) is a modified derivative of testosterone. It is one of the only anabolic steroids specifically designed to enhance sports performance. This very powerful anabolic steroid greatly improves protein synthesis.
Description
Description
Product and Laboratory: Methandienone (Dianabol) by Prime Pharma
Effects: Raw muscle gain, increased strength
Ingredients: Methandienone
Form: Oral
Concentration: 10 mg/tab
Presentation: 100 tabs (Total box 1000 mg)
Dosage: 20-80mg per day over the course of 6-8 weeks


| Beginners | Intermediate | Advanced | Female |
| --- | --- | --- | --- |
| 20-30mg per day | 30-50mg per day | 50-80mg per day | N/A |

Protection during treatment: liver protection Samarin / tamoxifen (Nolvadex) / Anastrozole (Arimidex) / Letrozole (if needed)
Pct post cycle therapy: tamoxifen (Nolvadex) / HCG / Anastrozole (Arimidex) / Clomifene (Clomid)
Stack: Testosterone / Deca / Growth Hormone (All Varieties)
Level: Suitable for all users
Buy Dianabol By Prime Pharma – Dianabol 10 mg Pills
In the anabolic world, Dianabol 10 mg pills come off as the most popular and highly trusted drugs.
They're extremely vital in that they help users gain massive mass and considerable amount of strength. Methandienone 10mg pills is a variant of Dianabol from Prime Pharma that won't disappoint.
These tabs come in the purest and most concentrated form, thereby making them highly effective. Each box contains 100 pills, which will be sent to you in discreet packaging once you place your order online.
Lab Test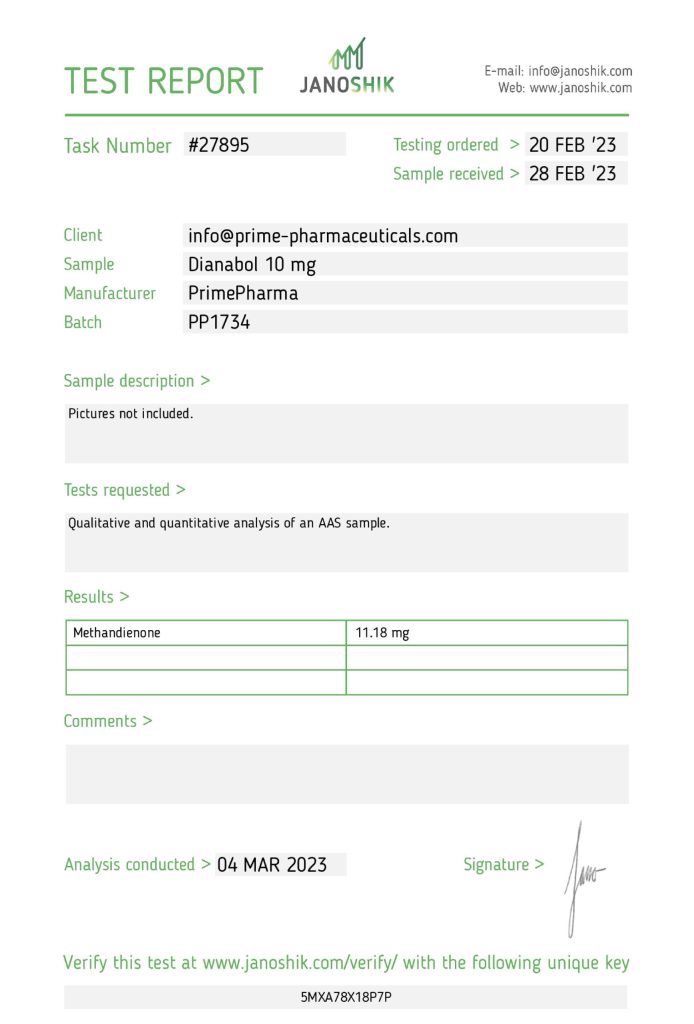 Shipped from WH Prime and Received in 4 to 5 days for $25 (click for details)
Our warehouse Prime Pharma is shipping only in Europe.

 

But this warehouse is NOT shipping in Switzerland, UK, Norway, Sweden, Finland, Denmark.

Brands available from our Warehouse Prime Pharma : Prime Pharma
Shipping cost for our Warehouse Prime Pharma = $25 (+5% of total order amount if you select our insurance)
It takes usually 48 – 72 hours (except weekend) after your order is paid to ship.
After shipped, delivery in 4 – 5 days for France, and 1 to 2 days in Belgium and the Netherlands.
Shipping tracking number is sent 1 – 2 days after shipped.
We give particular attention to the packaging and delivery of all your products. Each shipment is treated with the utmost care. Our products are vacuum sealed to ensure protection, sterility, and especially incomparable discretion. We ship the products with their original packaging and instructions.